BASE is constantly on the lookout for finding solutions for our clients to access to energy self-sufficiency. With its Sellande solar pump line, BASE meets the needs of both electric and water autonomy.
Easy access to water in complete autonomy
In agriculture, water is an indispensable resource for irrigating crops and watering animals. Getting water to its final use is not always easy. It can require daily human intervention, substantial investments, maintenance…
Our range of solar pumps has been designed to reduce all these constraints:
Irrigated plots without power lines and daily output maximized thanks to a controller.
With our solar pumps, no more heating pumps or noisy and pollutant power generators. Fuel and time savings thanks to its autonomy.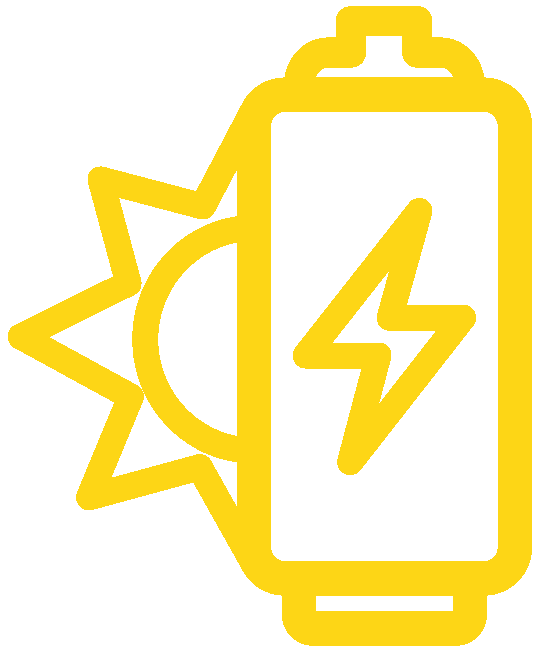 100% autonomous

Savings
Our pumps can be used beyond the reach of any power grid. They have a clean and effective energy.
Our pump kits are enhanced to answer your needs. Our ingeneers will size the kit that will better meet your needs.

Green energy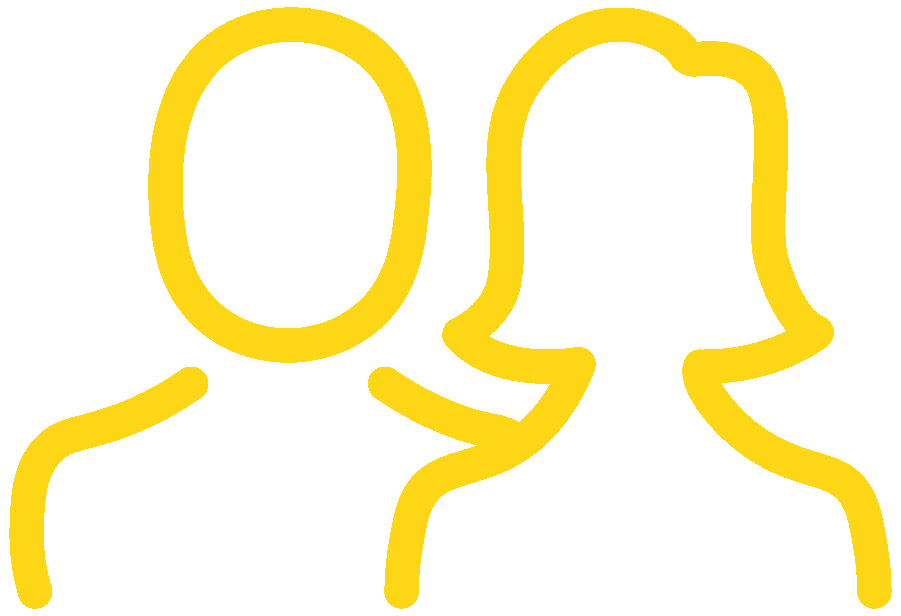 Suitable for all
We offer autonomous solar pumps dedicated to the agricultural business that meet your energy self-sufficiency needs. You are beyond the reach of the power grid or use a power generator? Switch to 100% solar, a green and reliable solution, without power cuts.
Do you have a well, a borehole or any other source of abundant and quite clean water?
Contact us so we can guide you to the better technical solution.
Specially created for an offgrid use, our pumps meet the requirements of many uses:
Our solar pumps have been tested by us and did prove us their sustainability, their effectiveness and their technicality.
All noise distrubances are avoided.
Its engine allows to provide a high water flow and a good pressure. It starts on its own and doesn't need water before running.
The pump starts when the panels' power is sufficient.
It is in aluminim and stainless steal. It doesn't need any maintenance thanks to its brushless motor.
According to your needs, the frequency of use, your region and your constraints, our engineers size you up a custom-made system ensuring a self-sufficiency functionning throughout the year. Our pumps have to be powered by a solar system.
Sellande pumps do not require battery installations to be able to work. They run as soon as rays of sunshine hit the solar panels and if the water level needs filling.
Our solar panels in our pump kits have been designed to produce electricity outside of the power grid. Panels are made in France, they follow rigorous quality standards in order to ensure their long-term high efficiency.
Depending on the required application, our engineers will direct you either to a submerged pump or surface pump.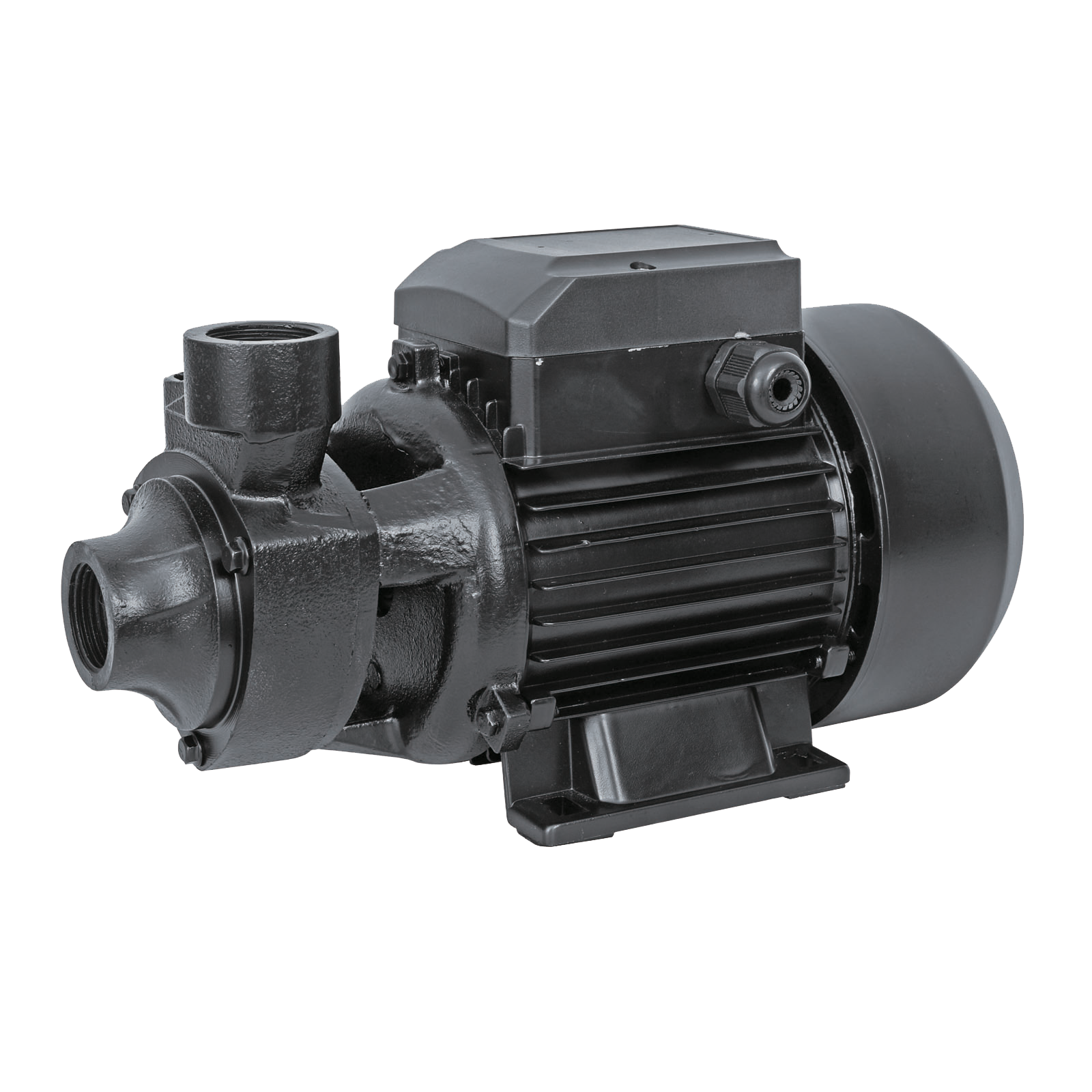 Surface pump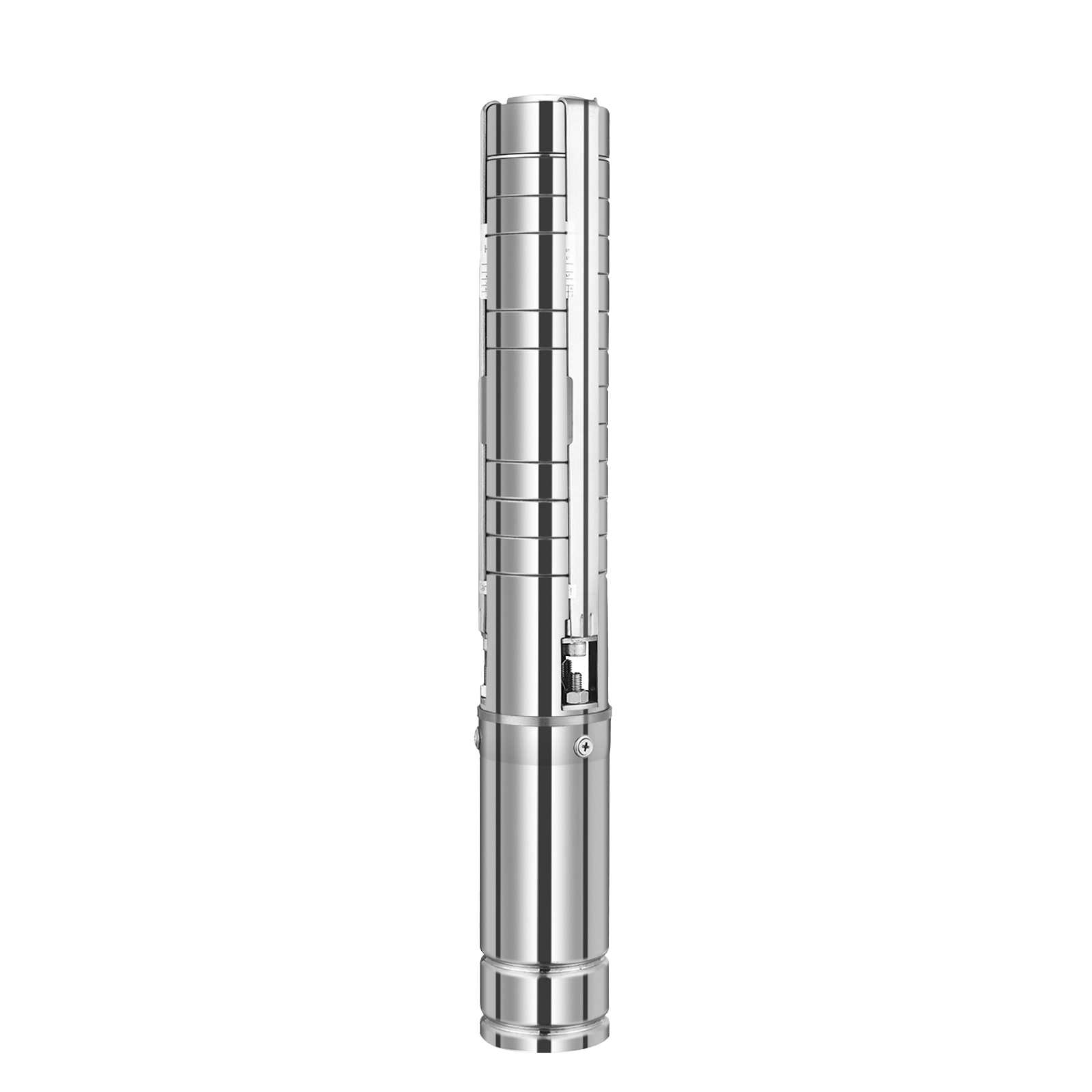 Deep well pump
Our wide range of pumps enables us to cover all of your needs. To do so, we need two criterias : max head and max flow. Max head is estimated via the discharge head, the flow and the discharge network caracteristics. The discharge head corresponds to the width in between the pump and the farthest tap.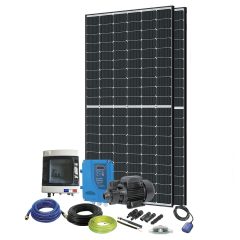 SOLAR SURFACE PUMP KIT
210W 2M3/H SELLANDE
2m3/h 2.5bar submersible pump powered by a solar kit
For watering up to 50 cows
Suitable for shallow watering: up to 5 metres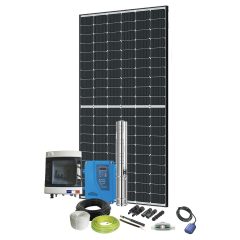 SUBMERGED SOLAR PUMP KIT
80W 0,5M3/H SELLANDE
Submersible pump 0.5m3/h, 2.8 bar powered by a solar kit
For watering up to 30 cows
Suitable for shallow watering: up to 10 metres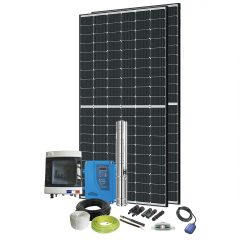 SUBMERGED SOLAR PUMP KIT
300W 4M3/H SELLANDE
Submersible pump 4m3/h, 3.5 bar powered by a solar kit
For watering up to 100 cows in several herds
Suitable for medium depth watering: up to 20 metres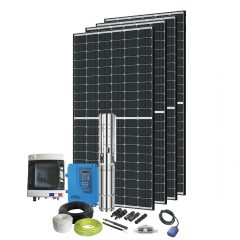 SUBMERGED SOLAR PUMP KIT
600W 4,5M3/H SELLANDE
Submersible pump 4,5m3/h, 8bars powered by a solar kit
For watering up to 100 cows
Suitable for watering at great depths: up to 50 metres
Become a reseller of our solutions!
Would you like to list our products in your online shop or physical shop?
We support you throughout your project. Our engineers are there to listen to you and to size you a custom-made project covering your issues. They can also rely on our specialized Design Office in order to be able to perfectly meet your needs. You can have a technical support throughout your installation.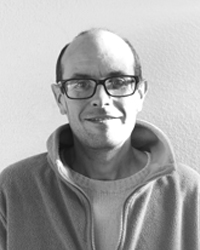 Since May 2016, I have been using an 5m3/h electric surface pump, fueled by a power generator. In July 2019, I was interested in BASE's solutions. I then accepted to test a 4m3/h Sellande pump and I quickly noticed its assets.
It is of course more expensive but the solar solution soon becomes less expensive than the thermic solution, because of the gas prices. It is now possible to irrigate all day long, even when it's cloudy. Before, it ran only 2h because of the power generator's tank. The pump speed rotation is adjustable which allows to add a drip watering on a precise zone, without overpressure. Before it was impossible because only the max flow was available.
I have been using the Sellande pump for six months, with winter and summer sun. I vividly recommend solar irrigation.
Organic grower at Coccinelle Paysanne, Cestas (33)
Get all the sunny news you need,
sign up!
Follow our news on
social networks!
Become a reseller of our solutions!