Customer testimonials: PDO dairy farm
Customer testimonials: PDO dairy farm in Normandy
The EARL de la Perrinerie is a farm of 110 dairy cows that produces organic milk at Neuville au Plain in Normandy. Mr Carré's milk is processed by the Isigny Sainte-Mère cooperative. This cooperative is independent and turns the milk into butter, cream, PDO cheese and infant milk. Mr Carré's cows produce 600,000 liters of milk per year.
Mr Carré invested in a solar dryer in 2005 to dry his hay. His traditional dryer consisted of a black roof (fibrocement) and wood panels under this roof to produce hot air. "My dryer did not always produce enough. I could not dry all my forage. So I decided to improve the heat production by installing 100 Cogen'Air thermovoltaic panels in 2016." says Carré.
These 100 Cogen'Air thermovoltaic panels were installed in 2016 as well as an intelligent control system developed by Base. This control system autonomously manages the drying turbines to suit current weather conditions and target moisture level.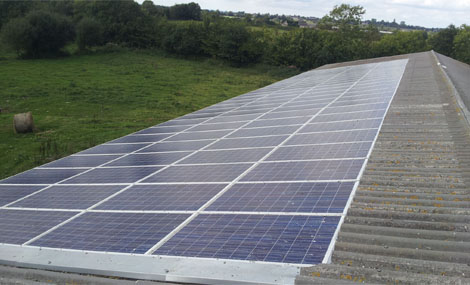 Roof mounted Cogen'Air array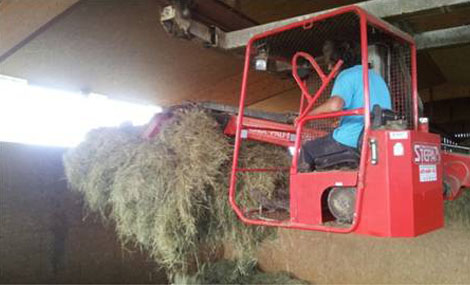 Barn dried fodder on a hay crane
Mr Carré is satisfied with his investment which brings him:
Electricity savings
An increase in photovoltaic revenues
Working comfort during drying
An increase in hay quality
The electricity generated by the photovoltaic panels is sold for profit. The Cogen'Air panel is 10% more efficient compared to a conventional photovoltaic panel.
"In spite of a westward orientation, Cogen'Air's electrical yield is better than my other photovoltaic plant, which benefits from a southern exposure" notes Mr Carré.
In 2016, despite highly variable weather, all 200 tons of Mr Carré's hay were dried by the Cogen'Air solar dryer. The dried hay's quality was improved by the installation of the Cogen'Air solar panels and the drying fan control system.
The control system developed by Base and installed alongside Mr Carré's dryer provides greater operator comfort. The dryer fan management system is a real asset : fan operation  is adapted to suit the weather conditions in real-time.
"I also save electricity by reducing the consumption of my drying fans."
The eco mode reduces the fans' electric consumption while maintaining sufficient air flow.

.